While I am patiently waiting for other companies to release their licensed versions of Merida, the newest star in the Disney line up, I have to say that this Limited Edition Merida Doll
from the Disney Store is pretty nice!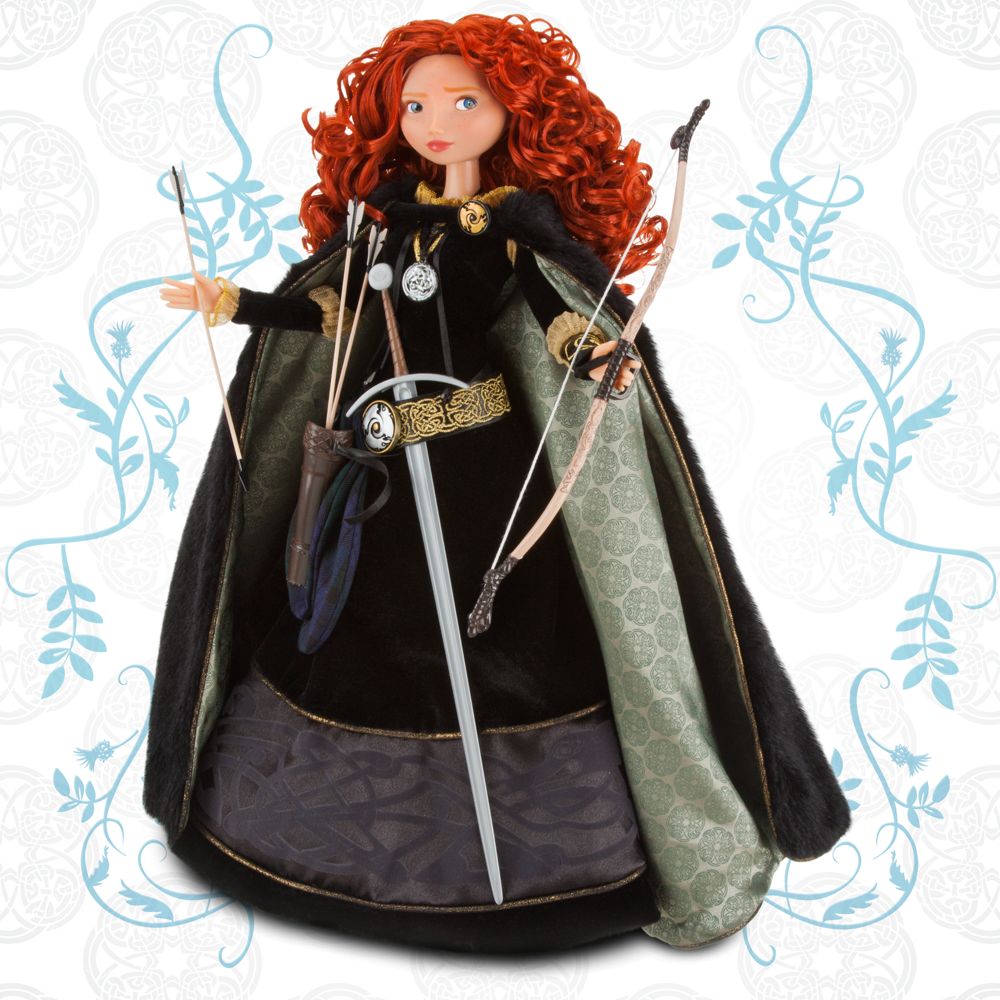 She is certainly not a play doll and stands 18″ tall – but is not a soft-body doll, rather more of a fashion doll like my favorite Ellowynes. Here are some of her details courtesy of the Disney Store:
Ebony gown of sumptuous velvet
Gown accented with pleated gold organza at cuff and collar
Skirt is finished with a wide band of satin, flocked in a tonal black Celtic-inspired pattern and edged in rich piping detail
Wide belt around waist, adorned with a repeating Celtic knot pattern in gold embroidery
Buckle features an iconic three-bear motif from the film
Sash is made of the navy and green plaid tartan belonging to Merida's family
Cloak features jet-black faux fur satin lining featuring a repeating Celtic pattern and closure mirroring belt buckle
Mass of fiery red curls framing Merida's determined expression
Iconic bow featuring intricate carved-in details
Display stand included
Plastic /polyester
18" H
Ages 6+
Imported
Includes Certificate of Authenticity
Limited Edition of 7000
I love that this version comes with such detail and of course, her bow and arrow and sword. Her price tag is well, pricey, at $99.50, but I would expect to pay that or more from any of the high end doll designers like Tonner.
You can purchase the Limited Edition 18″ Merida now at the Disney Store Online, but purchases are limited to one per person.
Some of the other options for Merida dolls right now – specifically for play, include: (click on image or title for ordering information).
Which one do you like best?